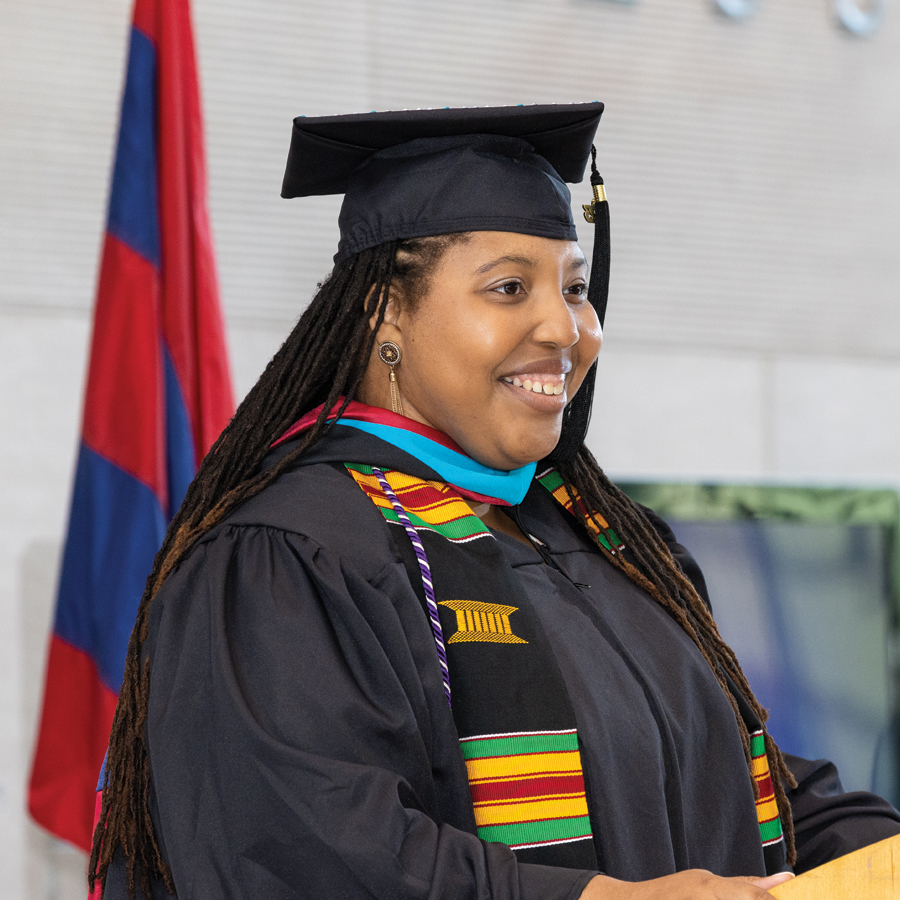 Master of Public Administration '23
Education:
Master of Public Administration, Fels Institute of Government, University of Pennsylvania '23
Juris Doctorate, University of Maryland Francis King Carey School of Law '22
Bachelor of Arts in Criminal Justice, Political Science, and Women, Gender, and Sexuality Studies, University of Richmond '19
Alicia Jiggetts (MPA '23) credits the Corella & Bertram F. Bonner Foundation with helping her discover her civic identity. As a Bonner Scholar in college, she served as a local news correspondent and worked in restoration of rights and workforce development programs. "I would go to city council and school board meetings to highlight things going on within Richmond's local government, and then write recap articles about what happened at the meetings," she recalls. "That's what really pushed me into wanting to learn more about law and government, and how I can be a catalyst for change as someone who understands the law but also wants to influence policy." Alicia went on to pursue a law degree after college, with the intention of following up with another graduate degree to open career pathways at the intersection of law and policy. Since the Bonner Foundation is a Fels Institute of Government admissions partner, she learned about Fels' Full-time Master of Public Administration (MPA)—and that connection convinced Alicia that Fels was serious about civic engagement.
After three years of law school, Alicia was energized by the pacing of this one-year, full-time program. "Fels teaches us a lot of skills in a short amount of time, and we're constantly building on the things that we've learned in previous classes. There's not one class that I've felt like I'm not going to use," she says. "They really push us to hit the ground running and they challenge us to try new things." Among the new topics that Alicia explored were consulting, public communication, game theory, and quantitative skills such as statistical analysis. "There's a joke in law school that lawyers can't do math," she laughs. "That was something I had to work through when I got to Fels. But statistics was my favorite class last semester. I spent a lot of time here in the Fels mansion, doing problems on the whiteboard with my classmates, and that was something I enjoyed a lot." As one of her electives, Alicia decided to deepen her data skill set with a course on data visualization in which she not only learned how to create maps from large data sets, but to make them interactive and accessible for non-experts to explore—a skill which she then put to work for her capstone project.
"The capstone is a great way to put into practice a lot of the skills that we are learning in our core classes," explains Alicia. She is partnered with the Bureau of Alcohol, Tobacco, Firearms and Explosives (ATF) – New York Crime Gun Intelligence Center, and is working with them on a comprehensive analysis of violent gun crime data. Alicia, who has considered pursuing a career as a prosecutor, considers data literacy to be a valuable tool for a legal professional; for example, as a prosecutor, she would want a data-based understanding the underlying trends and patterns behind any criminal case. "I think that a big part of a prosecutor's job is getting people off the streets who are harmful to the community—but at the same time, if we're not improving communities and doing things to make them better, then am I really doing the most good?" she says. With her passion for government and policy, however, Alicia hasn't ruled out a career as legal counsel for a municipality, such as the City of Philadelphia, or a federal agency like the ATF. "A lot of federal agencies have attorneys who provide legal insight on their activities," she says. "An attorney who understands statistics would be better equipped to give any agency advice."
In addition to her full-time course load and capstone research, Alicia also took on a spring fellowship with the School District of Philadelphia, drawing on her communications skill set and Bonner Scholar experience with local school boards. She is also one of the programming chairs for the Black Graduate Women's Association, and the president of the International City/County Management Association. "I love keeping busy," she says. "I think that's not only a big part of why I applied to Fels, but why I was accepted. Fels really values students who want to be involved in their community in different ways."
At Fels, that includes not only the wider community of Philadelphia but the tight-knit cohort of classmates who entered the program at the same time. "The Fels community consists of three tight-knit cohorts of classmates who entered the program at the same time, as well as public administrators who work in Philadelphia and beyond," says Alicia. "I love the small cohort. I know everybody, I know what their interests are, we can have amazing conversations, and we all get along." Her peers bring perspectives from disciplines including politics, economics, and law; some students in her cohort recently graduated college while others, like Alicia, already have one or more graduate degrees. Their diversity of experience is part of what makes their classroom conversations so rich, says Alicia. "I tend to think very locally, and I tend to think a lot about legal ramifications, whereas someone else might think more about ethical concerns or economic consequences," she says. "If you don't have the different layers of diversity and intersectionality, you might form one set idea of how things should be and what things should look like." With different areas of focus, some classmates may disagree on specific topics or solutions, but Alicia considers that a strength of the cohort. "Even if we have we have differences of opinions, being able to respectfully disagree and have a friendly debate or just talk through projects together, that's really valuable. In a lot of public sector jobs, you work in teams, you need to collaborate, and you need to have good working relationships," she explains.
"We have a very cooperative environment. We all want everyone in our cohort to succeed," she concludes. "At Fels, you have to be prepared to work hard. But the overwhelming support system you have here will push you to your end goal."