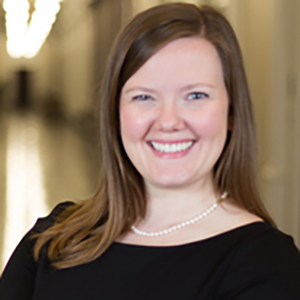 Policy Analyst, Office of Management and Budget
Melissa Neuman is a policy analyst in the Budget Analysis Branch in the Budget Review Division of the Office of Management and Budget, where she is responsible for matters related to governmental receipts, mandatory spending, and broader fiscal policy goals and outcomes.
Melissa served as president of the American Association for Budget and Program Analysis from 2013-2016 and has been a member of the board of directors since 2010. She has served as an adjunct professor of public financial management at the George Washington University's Trachtenberg School of Public Policy and Public Administration since 2015, and as the treasurer of the Grace Presbyterian Church of DC network of congregations since 2017.
When not in front of a spreadsheet, she can be found perfecting her chocolate chip cookie recipe or playing with her adorable bearded dog, George. Melissa holds an MPA in public finance and policy analysis from the Indiana University School of Public and Environmental Affairs, and a BA in economics from Kansas State University.