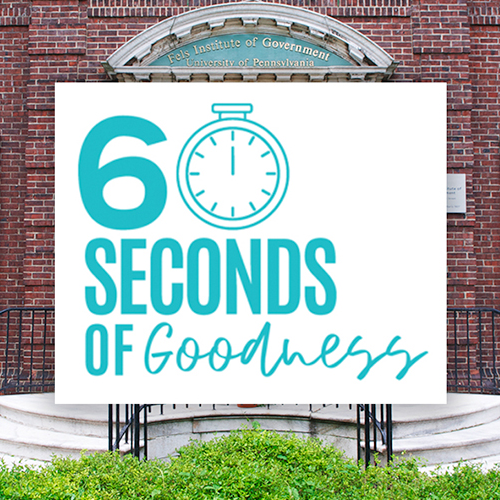 The Fels Institute of Government partnered with the impact venture fund ToVenture for the second annual B Good Pitch Competition on Friday, April 21. Open to graduate and non-degree students in disciplines other than business administration, this social entrepreneurship competition invites participants to propose sustainable solutions to real-world challenges, to connect with resources and like-minded peers, and to compete for seed grants to further develop their ideas. Students from across Penn gathered in the Fels courtyard for the 60-second pitches.
The winner of the 2023 competition was pre-vet student Allie Seok with a pitch for Perky Pets, an AI chatbot designed to provide virtual veterinarian services such as answering pet questions and connecting pet owners to specialists. Allie, a pre-vet student in the Pre-Health Specialized Studies Program, received a seed grant for $1000. Runner-ups included a team from Fels (Lauren Wilkinson, A.J. Dobson, and Tygh Kane), who proposed kid-friendly security systems to improve mental as well as physical safety for K-12 students, and School of Policy and Practice student Jonathan Muruako, whose app Fitalyst uses student data to help first-generation college students identify and prioritize urgent tasks. Each runner-up received $250 from ToVenture.
ToVenture is the initiative of Dafan Zhang (Master of Government Administration `11), a Lincoln University professor, attorney, and Fels alumnus who describes himself as a serial entrepreneur. "As an alum, I am so honored to be able to found, host, and continue to support this great event that brings bright minds together to try to solve social problems and build sustainable business ventures," he says. This summer, Dafan will launch a second initiative: the ToVenture U Incubator, which features weekly workshops to help aspiring social entrepreneurs develop their business plan.
Watch a recap of the 2023 competition on YouTube >
Learn more about the B Good pitch competition >