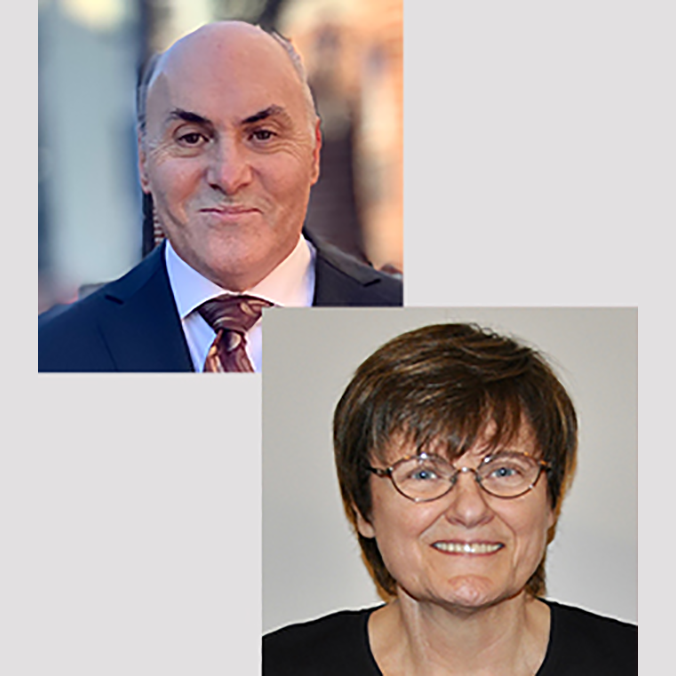 The Fels Institute of Government welcomed Dr. Drew Weissman and Dr. Katalin Karikó to the Public Policy in Practice speaker series on Thursday, October 28, 2021. Dr. Weissman's and Dr. Karikó's groundbreaking work on the therapeutic use of mRNA enabled the development of the COVID-19 vaccines developed by Pfizer/BioNTech and Moderna. For this work, they also earned the prestigious Lasker Award—often regarded as the pre-cursor to the Nobel Prize—among many other international prizes.
It was an intimate conversation moderated by Distinguished Fellow Elizabeth Vale, Dr. Weissman and Dr. Karikó, with Fels Institute of Government students and community members. The doctors shared their perspectives on many topics including the unlikely paths of their careers.
Dr. Karikó grew up the daughter of a butcher in a small town in Hungary in an adobe house without running water. She developed an early love of science from a high school teacher. "Hard work is part of life," she said, and this prepared her for decades of work on her passion—mRNA. She came to the United States in 1985 to continue her work of unlocking the mysteries of mRNA with only the equivalent of $100 sewn into her two-year-old daughter's stuffed teddy bear.
Dr. Weissman completed his fellowship training in Anthony Fauci's lab before coming to Penn. "Tony was a fantastic boss," he said in the interview. "He was incredibly open to ideas… it was a wonderful experience." After a chance encounter at a Penn Department of Medicine Xerox machine, Dr. Weissman and Dr. Karikó began talking. This led to their astounding alliance and to their ground-breaking work which has helped save literally millions of lives and protected billions more globally.
They published a seminal paper in 2005 on lowering the inflammatory response of mRNA, which now made it useful in the development of therapeutic drugs. While the paper didn't receive immediate or widespread attention, the lack of response did not deter the researchers. "We knew that it is important and that it would one day be read," said Dr. Karikó. Flash forward to 2020, and the attention followed.
"We had been working on vaccines for seven-plus years," said Dr. Weissman on his work prior to the pandemic. "I think everybody who worked with mRNA recognized its potential for use in emergent situations because an mRNA vaccine is incredibly fast, the pharmaceutical production is easily scalable."
Fels Master of Public Administration students were particularly interested in discussing how public administrators and government leaders can support public health and combat vaccine misinformation.
"The source of the problem isn't government. The source of the problem in my mind is the ability of social media to spread false information rapidly, and a large group of people in the United States would rather believe a social media person instead of a scientist," said Dr. Weissman.
Misinformation about science isn't a new phenomenon, said Dr. Karikó, who shared a story from England 100 years ago when x-rays were discovered. Capitalizing on unfounded fears that x-ray technology would be added to glasses or binoculars to see through clothing, individuals began marketing "x-ray proof" underwear and petitioning to ban "x-ray binoculars" from theaters. 
Both scientists are humble about their accomplishments. They consider their success to be their long careers following their passion, not the overwhelming attention they are now receiving.
Science is not about being in the spotlight, said Dr. Karikó, "science is [about being] in the lab thinking and enjoying, solving problems. You have to enjoy what you are doing. Don't look at how others are proceeding and being promoted and whatnot. Just do what you can do and enjoy."
Dr. Weissman expressed similar sentiments: "The rest of the world sees success because all of a sudden we're in every newspaper and TV show, but I'm sure Katie would agree, success for us is a lifetime of contributing to science and advancing."
"We are grateful that you feel that way," said Elizabeth Vale in closing, "But we are grateful for the last year-and-a-half as well. All over the world you have saved lives as you have protected the rest of us, so blessings on you and thank you. Go back to work, and don't travel all the time because we need you for many more decades."
Watch the full interview on YouTube, and learn about future conversations you can join on the Fels website.
Dr. Weissman is a professor of Medicine at the Perelman School of Medicine, University of Pennsylvania. Dr. Karikó is Senior Vice President at BioNTech RNA Pharmaceuticals and an Adjunct Associate Professor at the Perelman School of Medicine, University of Pennsylvania, where she worked for 24 years.
The Public Policy in Practice Series, led by Fels Distinguished Fellow Elizabeth Vale, is designed to provide students with a variety of perspectives and compelling personal narratives that will help them not only form their opinions on important issues but will also help shape their careers. The Fels Institute of Government is proud to offer these important conversations to the entire Penn community and members of the public.